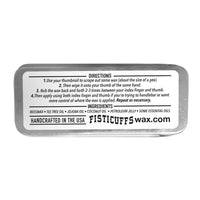 15g slide top tin of Fisticuffs Mustache Wax
SKU-10874856-01
$6.99
15 grams (.50) ounces of Fisticuffs Mustache Wax hand poured into a vintage slide top locking tin. Same scent and product as our 1oz OG tin but in a smaller pocket size option!
*Medium hold
Scent: Citrus rosemary with lemon afternotes.
REVIEWS
Nice scent and handy!
My 'stache is in a training phase and can be quite rebellious, but the Fisticuffs sliding tin works great while out and about in public,
Hubster items
Hubby loves his beard oil and mustache wax
Mustache wax
It works really well. For not ever letting my mustache get long in liking how it works. It does take some getting used to though. But definitely worth it.
great wax
as with anything i buy from grave for shave never a disapointment always top of the line quality stuff..