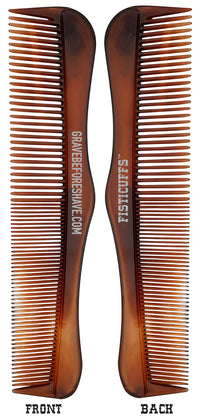 Grave Before Shave Acrylic Tortoise Shell Fine/Wide Tooth Comb (made by BASS)
SKU-34852082
$9.99 $6.99 Sale
OFFICIAL Grave Before Shave Acrylic Comb.
(Made by Bass Brushes).

Bass Brushes strives to continually improve upon the brushes and combs they offer. They search the globe for the finest quality materials in such places as Italy, Germany, Mexico, Asia, and right here at home in the USA. Their brushes and combs come from the hands of professionals for professionals. You will never be disappointed!

Features:
Fisticuffs/Grave Before Shave Engraved lettering
Finest quality materials.
Very durable.
Ultimate comfort during use.
Has smooth flow.
Fine & wide teeth for multiple uses.

REVIEWS
I had to leave a review (Service was that good)
An easy process to ship to Canada, love the comb and the beard wash I bought with it. Got a TON, and I mean A TON of freebies with the order. Couldn't be happier with my purchase. Thanks a lot!
Great Comb
Quality is great and it works like it's supposed to work definitely recommend.
Grave Before Shave Acrylic Tortoise Shell Fine/Wide Tooth Comb (made by BASS)
Comb
It works great and was very affordable.