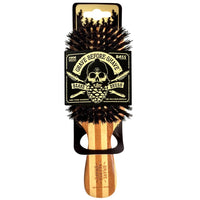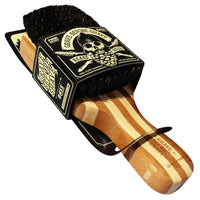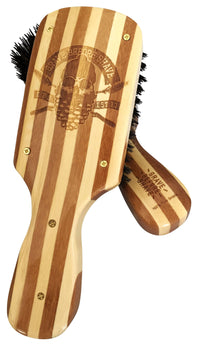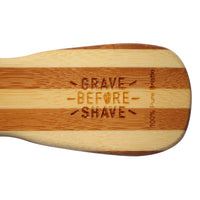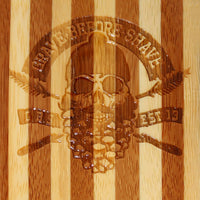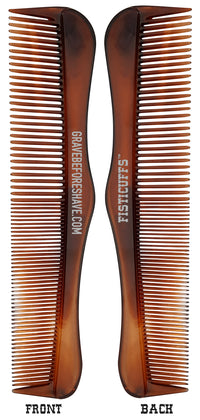 GRAVE BEFORE SHAVE™ Beard Brush and Acrylic Tortoise Shell Fine/Wide Tooth Comb
$40 $20 Sale
1 GRAVE BEFORE SHAVE Men's Beard Brush
- Laser etched with our iconic Pine Guy logo on the back and "Grave Before Shave" on the handle
- 100% Wild Boar Bristles and Bamboo Wood Handle
- Top quality Bristles and Craftsmanship only
- Made by "Bass", A World Class Brush Company
- Hand finished to bring out the wood's natural beauty.
This brush uses only the finest grade natural boars hair to massage, stimulate and exfoliate the skin and to distribute beard oil or butter along the hair shaft to condition, seal and polish the hair to a beautiful and healthy condition.
*Bamboo brush Natural wild boar bristles Truly "green" hair brush 
AND
1 OFFICIAL Grave Before Shave Acrylic Comb.
(Made by Bass Brushes).

Bass Brushes strives to continually improve upon the brushes and combs they offer. They search the globe for the finest quality materials in such places as Italy, Germany, Mexico, Asia, and right here at home in the USA. Their brushes and combs come from the hands of professionals for professionals. You will never be disappointed!

Features:
Fisticuffs/Grave Before Shave Engraved lettering
Finest quality materials.
Very durable.
Ultimate comfort during use.
Has smooth flow.
Fine & wide teeth for multiple uses.
REVIEWS
You can't go wrong
Been using grave before shave bread balm for several years, my go to scent is the bay rum, I've tried the others, and they are good but the bay rum is my favorite. I recently tried bought the body wash and bread shampoo and conditioner and they all smell wonderful and leave my beard clean, fresh and soft. Shipping is super fast by the way.
beard brush and comb
very good products ,they work great
Last order
Satisfy from the product as always only us GBS priduct for my beard now. Fast shipping
GRAVE BEFORE SHAVE™ Beard Brush and Acrylic Tortoise Shell Fine/Wide Tooth Comb