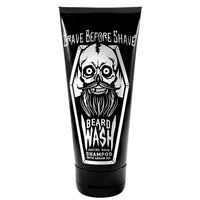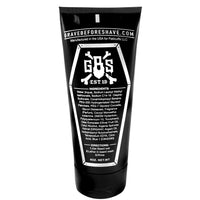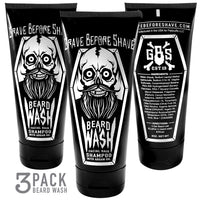 GRAVE BEFORE SHAVE™ BEARD WASH SHAMPOO
SKU-30291685
$9.99
GRAVE BEFORE SHAVE BEARD WASH SHAMPOO
One 6 fl. oz. tube of Grave Before Shave Beard Wash
This Beard wash is enriched with Argan Oil to keep your hair hydrated to the fullest!
This shampoo is designed for facial hair, but works fantastic on ALL HAIR!
With the fresh scent of an Old time Barber Shop this Beard Wash is a MUST for ALL MEN!!
UPC: 638346310011
REVIEWS
Great product
This is a great shampoo for beards. Try pairing with the conditioner. I sound definitely recommend this.
Great product
Love this stuff! Makes my beard smooth and minimizes the amount of brushing time after showering.
Good stuff
Been using Grave Before shave products since 2013. They are great!
Really liking this
Bought the Wash and Conditioner last time they had a sale and I was actually surprised how good they are. It takes just a little bit to get a good lather going. I really like the Scent. I thought it was a Cologne but they say it's a Barbershop scent. Either way I like it.
The Conditioner is really good to. It really coats my Beard.
Beard feels great after drying it and the scent just faintly lingers.
I like it and will buy it again.
Nothing but the Best!
Great products with great prices. Quick shipping. I even got a free sticker pack with my order. Happy customer for life.