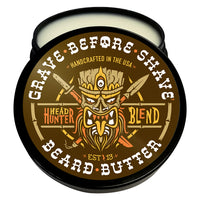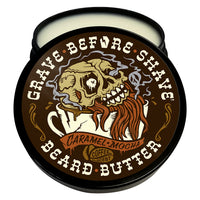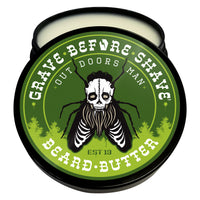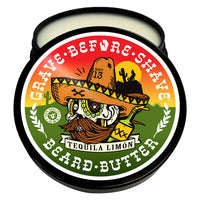 Grave Before Shave Beard Butter 4oz. Container
TWBB4OZ
$20.99
Grave Before Shave Beard Butter 4 oz.

This Beard Butter is a easy to apply Beard conditioner that deeply softens your Beard and skin.
Using only the best butters and oils available, this butter contains NO beeswax providing less drag when brushing to keep hair pulling and damage minimized!

About the product:

-Large 4 oz. Container
-Choose from 10 different aromas of Beard Butter
-Only the finest oils and butters that are used in all G.B.S. products.
-Helps condition the skin underneath the beard, aiding in itch relief and beard-ruff
-NO beeswax providing less drag when brushing to keep hair pulling and damage minimized!


Directions...

1. Scoop out desired amount with your finger
2. Dissolve balm by rubbing between your hands.
3. Then apply to your beard with your palms and fingers.
4. Once desired amount has been applied, you can shape it with your hands, comb , or brush!
Notice:
Did your butter arrive gritty?
Sometimes temperature changes will cause the butters to melt partially or completely, which can cause a change in the consistency of the shea (making it gritty). 
It can happen from time to time, usually in transit, unfortunately to any of the scents as we don't use any synthetic or chemical binders in our products, but it is salvageable! 
The key is it has to be melted completely and then reset quickly.
 Follow the steps below and your butter will be good as new!

1. Place the container in the microwave, with lid on, for about a minute and a half.
2. After melting, give it a couple of swirls and place it in the freezer to re-set.
3. After leaving the 
butter
 in the freezer overnight, take it out and let it thaw for the day.
4. The following day your 
butter
 will be creamy smooth just like it was when we first made it!
Ingredients: Shea Butter, Mango Butter, Coconut Oil, Sweet Almond Oil, Apricot Kernel Oil, Jojoba Oil, Grapeseed Oil, Argan Oil, some essential oils
REVIEWS
Great stuff!
Love the beard wash & conditioner, beard butters are amazing. Cigar Blend is my new favorite!
No Razors Ever
I will not use anything but Grave Before Shave! Amazing products! Oh yeah, and the stickers are cool!
Love it!
Been using it for about 2 years now and I love it!
Best product out there for your beard.
I've been using GBS for a few years. Their beard butter is one of my favorite products.
Awesome scent
Great scent and smooth texture, love it. Always smells like summer.