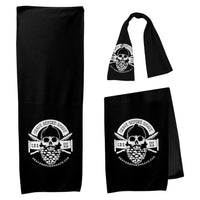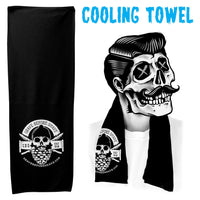 GRAVE BEFORE SHAVE Cooling Towel
SKU-47290777-01
$7.99
GRAVE BEFORE SHAVE Cooling Towel
Stay cool while you exercise with this handy athletic towel. This cooling towel is perfect for draping over your neck or wiping down your face and arms.
Designed to wick moisture and perspiration from your skin while cooling your skin.
The specialized air pocket construction quickly absorbs and retains water while enhancing air flow into the damp cloth for a prolonged cooling effect.
Simply rinse the towel in water and wring to activate the cooling technology.
Designed to retain water while remaining dry to the touch.
Towel is washable and reusable, just rewet the towel when it begins to dry out. Made of 100% microfiber polyester.
Great for keeping you cool during a round of golf, workout at the gym, charity run or other exercise activity. Size: 32" x 12".
REVIEWS
Extremely satisfied
I've been growing my beard out for about 3 years now. It would grown uneven and scraggly in some areas. Felt itchy and dry sometimes. My wife bought me some beard butter for Christmas and loved it. Helped my beard look even and I didn't have a dry beard anymore. I ran out of that can of beard butter so did some research on what to buy next. Came across Grave Before Shave. I bought two cans of beard butter, some beard shampoo and conditioner, and a cooling towel because I work in a hot factory all day. The cooling towel is nice. I love the scents of the two beard butters, Aphrodisiac and Bay Rum/Coconut. The formula of GBS beard butter is much better than the previous beard butter that I had. The shampoo and conditioner works great and leaves my beard feeling clean and hydrated. 10/10 would recommend Grave Before Shave to anyone trying to grow their beard and keep it looking nice.
Amazing
I've been using GBS for 2 years now and it's the only thing I'll use, the butter is magic and I love the hat and cooling towel I got. I've also previously bought two of the shirts.