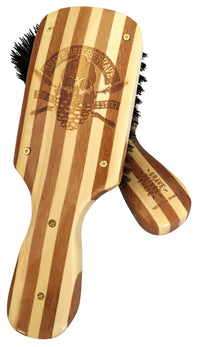 Official GRAVE BEFORE SHAVE™ Beard Brush
SKU-42839929
$17.50
GRAVE BEFORE SHAVE Men's Beard Brush
- Laser etched with our iconic Pine Guy logo on the back and "Grave Before Shave" on the handle
- 100% Wild Boar Bristles and Bamboo Wood Handle
- Top quality Bristles and Craftsmanship only
- Made by "Bass", A World Class Brush Company
- Hand finished to bring out the wood's natural beauty.
This brush uses only the finest grade natural boars hair to massage, stimulate and exfoliate the skin and to distribute beard oil or butter along the hair shaft to condition, seal and polish the hair to a beautiful and healthy condition.
*Bamboo brush Natural wild boar bristles Truly "green" hair brush UPC: 638346310615
REVIEWS
Beard Brush
I bought it for my son years ago I bought him one a lot like this one it was from some snow boarder and he loved it but lost it and I couldn't find one like it until now. He loves the handle the design and the bristles. It's great quality and a cool look.
Beard Brush
Great product. I would definitely recommend to anyone looking for a great brush.
Awesome brush
Comfortable to hold and gets the beard flowing nice 👌🏻
Great brush
100% buying again great for hair
Rock n Roll
This brush is Rock n Roll, I take this thing with me everywhere and it always gets the job done when I need a quick beard brush anywhere I am.
100% would recommend